In light of the growing public health concerns around the Covid-19 coronavirus, we have decided to transform the 2020 Drapers Sustainable Fashion Awards into a week-long content-based celebration in early July.
Taking over Drapers' print and digital platforms, this new approach will allow us to shine a spotlight on the businesses and brands really making a difference.
The shortlist will be announced on 22 May and the awards will be judged by an independent panel of experts in fashion retail and sustainability, as planned. The winners will be unveiled on drapersonline.com w/c 6 July, culminating in a special edition of the magazine.
Please do not hesitate to email us at mike.burnage@emap.com if you have any questions.
Collaborating for Change
As one of the world's most polluting industries, fashion has some major sustainability problems. While it is starting to turn up the dial on its sustainability efforts, and despite the significant progress being made by brands and retailers to minimise their negative impact, there is still a long way to go.
Positive change is urgently needed and now is the time to work together to find solutions to the fashion industry's environmental and social impact – together, we can collaborate for change.
Bringing together the most sustainable brands and retailers, trailblazers and unicorns, disruptors, progressive thinkers and pioneers, Drapers Sustainable Fashion 2020 is an unmissable opportunity to get together and discuss what we can do to tackle the issues facing the industry through innovation and creativity.
Our sustainable fashion conference, which took place on 11 March 2020, brought together fashion brands and retailers, clothes manufacturers, supply chain experts, innovators and anybody for whom sustainability matters. Our programme of hard-hitting talks, projects showcased sustainability in action, and start-up innovation that is pushing the boundaries of the possible.
2019 pledge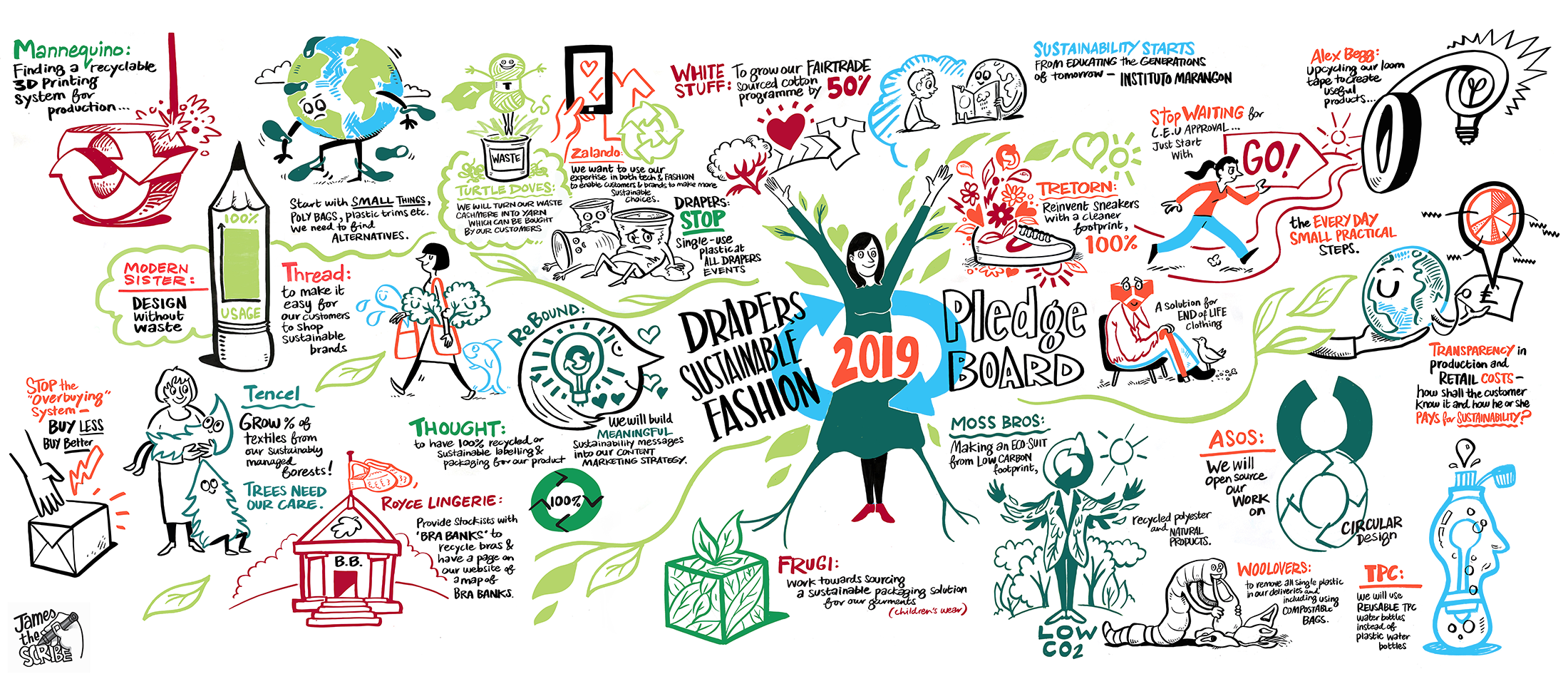 'The speakers were all very knowledgeable, and it was great to hear from such a varied level of industry experts'
Katie Lankenau, FatFace
'I really enjoyed the day and found it very interesting and inspiring. I thought the speakers were very good and a good variety. I came away with ideas for our own company.'
Harriet Catterall, Product Developer, Label Mix
'Very educational. We need the industry to step up and step together'
Sine Klitgaard Moeller, Design Director, LEGO System A/S
'it was extremely beneficial to speak with other retailers and gain insight into what everyone is currently doing and what we can strive to achieve'
Mairead Espey, CSR Manager, Mint Velvet