Drapers Sustainable Fashion Awards: Changemakers Week

In light of the growing public health concerns around the Covid-19 coronavirus, we have transformed the 2020 Drapers Sustainable Fashion Awards from a physical event into a week-long content-based celebration running across Drapers' print and digital channels from 6-10 July.
Developed in partnership with ISKO and Duo, the inaugural Changemakers Week will allow us to shine a spotlight on the businesses and brands really making a difference.
At the start of the week, we will unveil the winners of this year's Drapers Sustainable Fashion Awards alongside a special digital report detailing their achievements. Throughout the week, excerpts from the report will be published on Drapers' newly designed website and promoted via our social channels, culminating in publication of a special edition of the print magazine on Friday 10 July.
From this year's Sustainable Fashion Champion, to the leaders behind the winners of Brand of the Year and the best supply chain and carbon footprint initiatives, we hope this series of interviews and profiles will act as a roadmap for progress towards creating a more sustainable fashion industry. The report will also include our 2020 Ones to Watch, a list of 20 new and emerging sustainability-focused businesses handpicked by the Drapers team.
On Wednesday 8 July, we will host a Changemakers focused webinar as part of the Drapers Connects series, featuring an interview with sustainability pioneer and designer Christopher Raeburn. Click here to register.
Keep an eye on drapersonline.com for the grand unveiling on Monday, and sign up to our Daily News and Spotlight on Sustainability newsletters here to get the latest updates as they happen.
Email mike.burnage@emap.com if you have any questions.
2019 pledge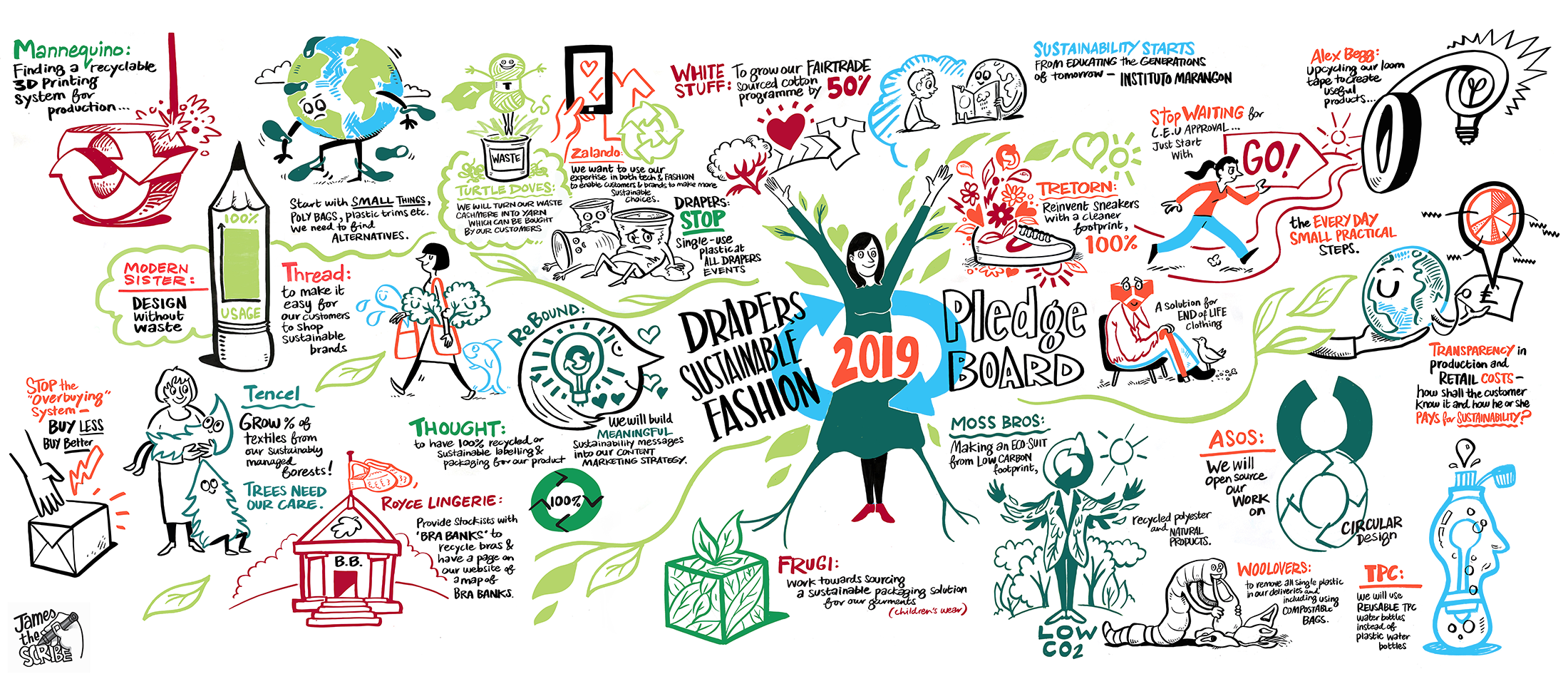 'The speakers were all very knowledgeable, and it was great to hear from such a varied level of industry experts'
Katie Lankenau, FatFace
'I really enjoyed the day and found it very interesting and inspiring. I thought the speakers were very good and a good variety. I came away with ideas for our own company.'
Harriet Catterall, Product Developer, Label Mix
'Very educational. We need the industry to step up and step together'
Sine Klitgaard Moeller, Design Director, LEGO System A/S
'it was extremely beneficial to speak with other retailers and gain insight into what everyone is currently doing and what we can strive to achieve'
Mairead Espey, CSR Manager, Mint Velvet